College basketball: How good does your defense have to be to win a national title?
"UCLA is 23-3, has one of the best players in America in Lonzo Ball, and boasts the best offense the sport has seen in the past 15 years. Based on everything the Bruins have going for them, they should be a legitimate national title contender.
They still might be, but there are two sides of the court. The Bruins rank 129th in the country in adjusted defensive efficiency, and if history holds up, that will prevent them from winning a national championship.
To be clear: UCLA can still win the title even if it doesn't improve its defense – though it's unlikely. The Bruins' offense is that lethal. But Steve Alford's squad would increase its margin for error if it merely became decent in stopping foes. As it stands, a cold perimeter shooting night would likely mean an early NCAA tournament exit.
Since 2002, here is every national champion and their final adjusted defensive efficiency ranking. The teams are listed from best to worst: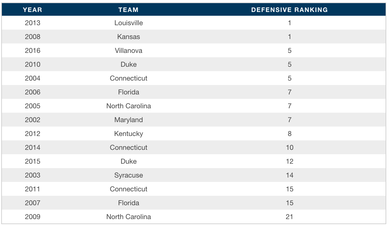 So, yeah, that table is bad news if you're a UCLA fan. The good news: the 2016-17 Bruins have a better offense than any of the past 15 national champions; its 124.5 offensive rating edges out 2014-15 Duke, which posted a 122.5 mark. So while the worst defensive team on this list was more than 100 spots better than UCLA is this season, it doesn't have as much ground to make up as the table may suggest. Still, improvement is likely needed.
2014-15 Duke is the blueprint. The Blue Devils struggled defensively all season long two years ago, but once the tournament started, Duke shifted Justise Winslow to power forward. From there, everything changed – the Blue Devils surrendered 56.3 points per game in the NCAA tournament, well below their season average.