28 Jesuit Colleges & Universities
The Great Twenty-Eight
The 28 Jesuit colleges and universities in the United States (listed below) are located in 18 states and the District of Columbia. The institutions range from major research universities to comprehensive universities; from smaller colleges and universities that combine the liberal arts and professional studies to one strictly liberal arts college. In addition to being among 221 Catholic institutions and 1,600 independent colleges and universities in the United States, American Jesuit colleges and universities are part of a network of approximately 189 Jesuit institutions of higher learning throughout the world, thus having the distinction of being at once local, national and international.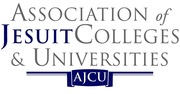 ​JET Tour
​Prospective applicants considering pursuing their undergraduate degrees at a Jesuit institution are encouraged to check out the Jesuit Excellence Tour (JET) program, a series of recruitment events that allow admissions staff at Jesuit colleges and universities to jointly recruit targeted areas across the country.
FACHEX
The FACHEX program (Faculty and Staff Children Exchange Program) is an undergraduate tuition remission program that allows dependents eligible for tuition benefits at the "home" participating Jesuit institution to apply for the same benefits at participating host institutions.
To learn more about The Association of Jesuit Colleges and Universities, click here.